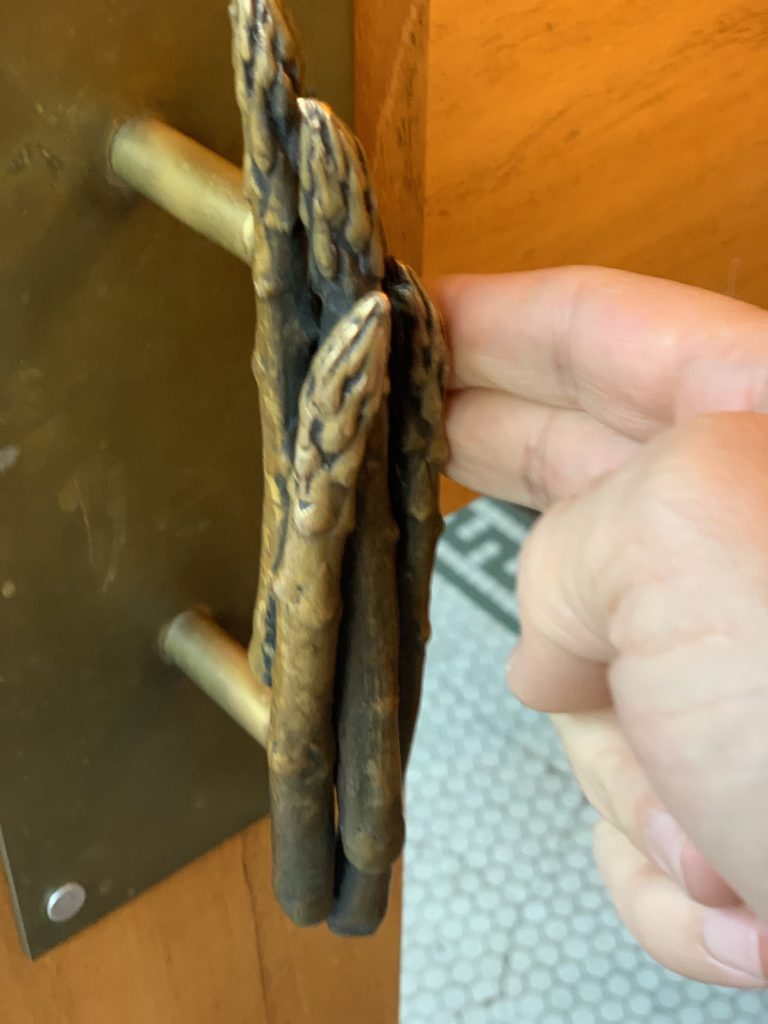 Just go.
This was one of the very best meals I have ever had, period. Full stop.
I'd been getting excited in the days leading up to our reservation, reading and re-reading the menu. Each time gasping a little bit and truly in a quandary over what I wanted to order. If you read any of my other reviews, you know I tend to go a little overboard. For one, I always like to support the plant-based places, and two, frankly, I can typically eat a lot more plant food than other types of SAD food.
We were seated rather quickly upon arrival and immediately we all noticed that they offered a chef's tasting menu, which I hadn't realized that they did when I was looking online. All of us quickly agreed to put ourselves in the very capable hands of the Millennium kitchen.
They started us off with their Warm Marble Purple Potato & Chioggia Beet salad which was just to die for. Perfectly caramelized spring onions that made me pause to taste their flavor were piled together with baby dandelion greens, pickled sea beans, sea vegetable caviar, fenugreek and dill aioli and dotted with a nasturtium green oil. More please.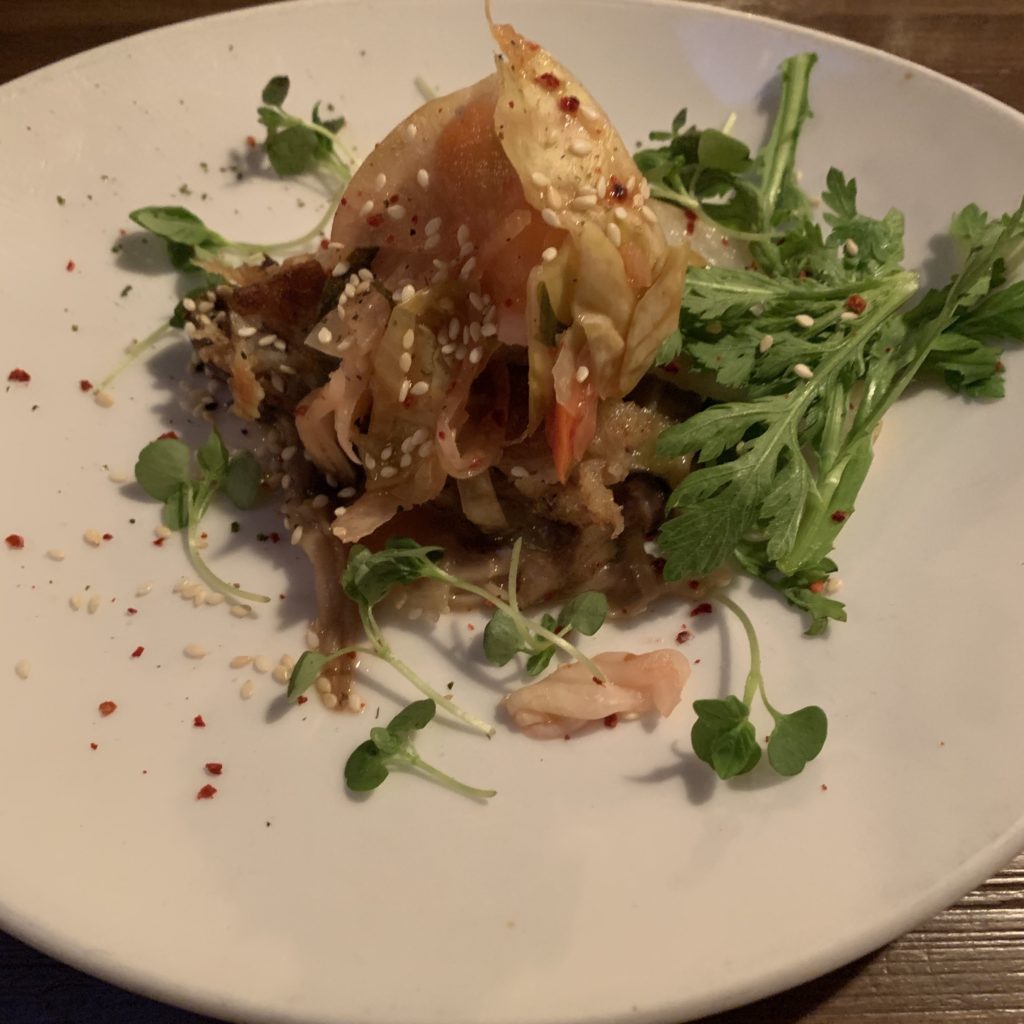 Next they brought us the Parsnip-Sunchoke Griddle Cake. This almost overwhelming combination of smoked sweet soy glazed beech and enoki mushrooms, miso braised leeks, cashew butter, asian pear and shungiku salad along with carrot and cabbage kimchi was almost off-putting. Until I tasted it. I was sure I was going to be revolted by the kimchi, but this was an excellent dish full of exotic and capitivating flavors. I'm not sure I've had dandelion greens before and I still don't know what shungiku is, but this dish was wonderful.
Next up, they unexpectedly brought us the seared broccoli di ciccio with a red wine glaze, oregano, garlic, fresno chile and the freshest tasting pine nuts I believe I have ever eaten. They tasted like they must have been picked off a tree a few minutes before they were tossed on my plate. Now I get why they're pine nuts. I've never tasted that flavor in one before. For such a simple dish, we were fighting over this. Another knockout.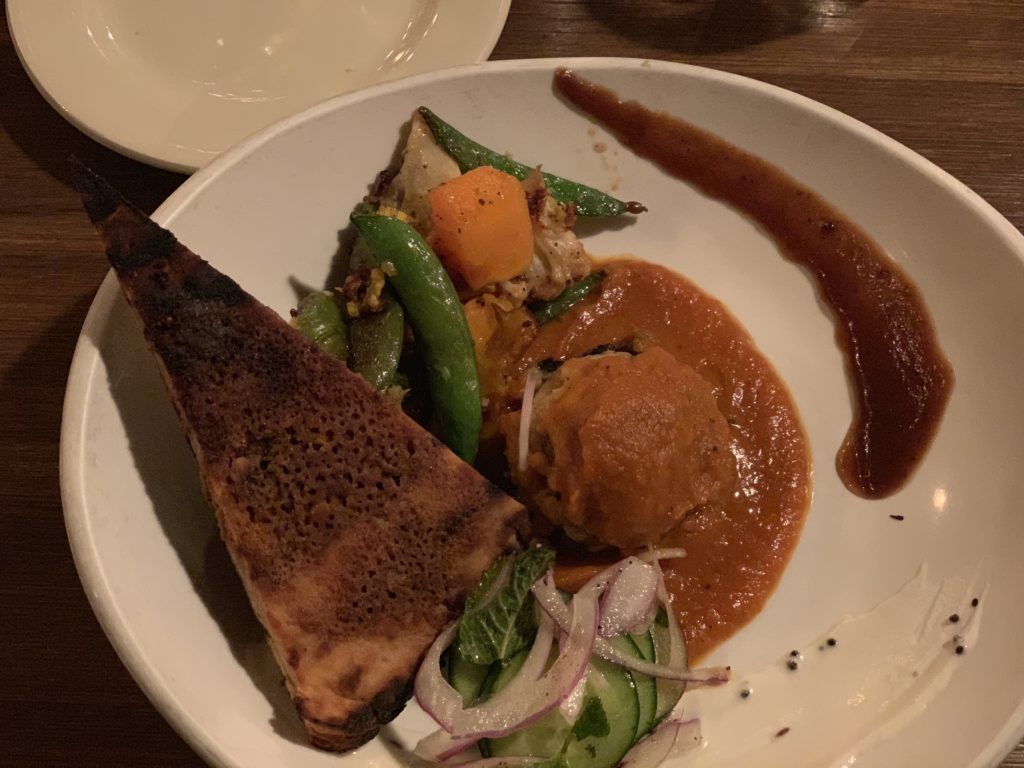 Next up we got to try the Butternut Squash Korma. This plate was huge and had a lot going on. It was probably my least favorite, though there wasn't anything in particularl wrong with it. There was just a lot of it. The plate was composed of green fava beans, roasted cauliflower, a potato and cashew kofta, a splash of butternut squash curry, snap peas, gold cauliflower, coconut raita, tamarind chutney, cucumber mint salad and a coconut, dried cherry flat bread that I ended up saving for last.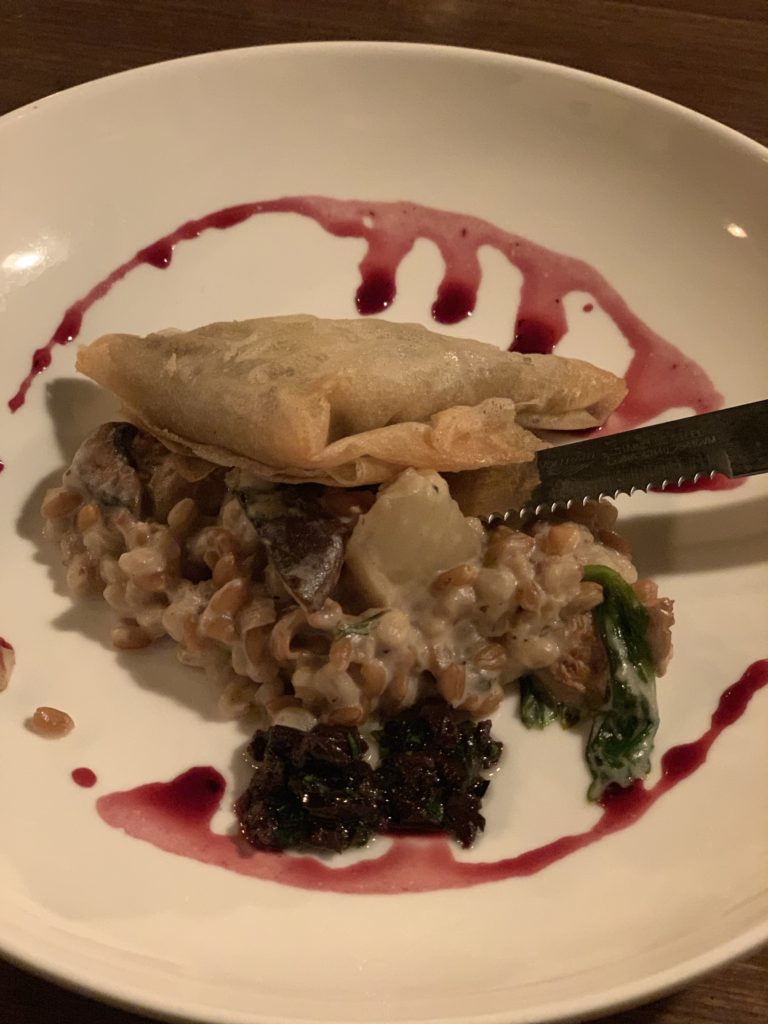 As if that weren't enough, they brought out the piece-de-resistance, a "Brick Pastry Purse" made of a black truffle cheese, roasted celery root filling, black barley farrotto, black chanterelle and hedgehog mushrooms, a cashew cream, roasted fennel and escarole, beet-red wine syrup and black olive herb oil. Seconds please! Something about the richness and quality of this dish was just phenomenal. Such rich, seductive flavors. There wasn't a time during the meal that anyone would have missed any meat or dairy on any of the plates. If you're a whole food plant based person, you absolutely must try this place. They even try to use minimal oils in their cooking which is nice, too.
Finally, we got dessert. Normally, I prefer to skip the whole affair. I don't have much of a sweet tooth and I just don't find it necessary. Further, things out are often too sweet for my taste. It's often an expensive disappointment.
Uh. So. No. Not this time. For not caring much for dessert, each one of these was excellent. We had a key lime pie with graham cracker crust, chocolate cake, and crispy waffle with ice cream.
If you find yourself in the Bay Area, you must make an effort to try this place. I didn't think I would ever get to sit down for a tasting menu again, let alone of this quality, depth, diversity and mind-blowing complexity. I want to eat here every time I'm in the Bay Area. Check it out!
VegScore: 100% – fully plant based vegan restaurant that also makes an attempt to use minimal oil. Bravo!